Black cats shunned for purr-fect selfies
(this is just one of MANY articles you can find online pertaining to the poor chances black cats and dogs receive in shelters & rescues)
Cited: https://www.bbc.com/news/uk-42871851
The founder of a cat rescue shelter has said black cats are being shunned by potential owners because they do not "show well" in selfies.
The RSPCA said it sees more black and black and white cats come into its care than any other colour of feline.
On average it takes at least 10 days longer to re-home a black or black and white cat compared to a ginger one.
Christine Bayka has been running The Moggery for the last 20 years and said while it has always been harder to re-home black cats and kittens, the situation has become worse.
"It's become more serious now because people live their life on selfies. Black cats are now less popular because they don't show up well in pictures," she told the BBC.
"When people ring me in the kitten season they will say 'any colour except black'."
Tabbies and greys are "snapped up on day one."
All 40 of the shelter's "long termers" are currently black, including Velvet, who has been at the centre for 14 years.
In response, the centre – which is run by volunteers – is offering free neutering for black cats in the Bristol area throughout February.
'Designer kittens'
Ms Bayka said she has also had people reject round-faced kittens in favour of "pointy noses".
"People want designer kittens," she said. "They put an order in now. I find it baffling."
Ms Bayka said finding a friendly feline should be the "most important thing".
Meanwhile Twitter users have been quick to defend their feline friends, with many proving just how photogenic darker cats can be. The BBC is not responsible for the content of external sites.
RSPCA scientific officer Dr Jane Tyson urged people to look beyond what an animal looks like.
"Their fur colour makes no difference to how much love they have to give," she said.
Rachel Saunders, the London Cattery Manager at Battersea, agreed.
"Cats are so much more than tools for social media likes – they will become your constant companions and best friends, no matter what colour they are," she said.

Tips for the perfect black cat selfie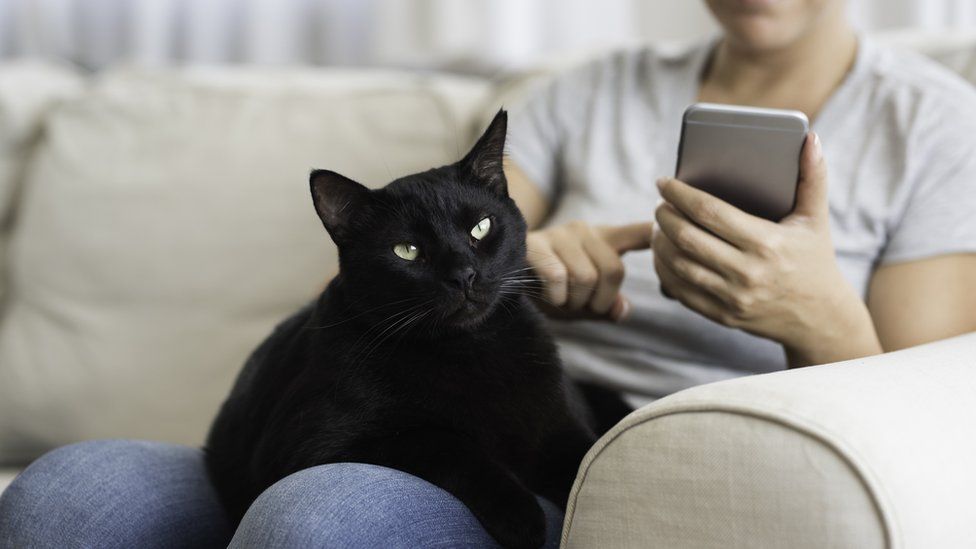 Arm yourself with suitable cat treats
Choose a minimal background
Find a spot with soft lighting
Get down to cat level (this may involve lying down on the ground for a long time)
Focus on your cat's eyes
Source: RSPCA, Battersea Dogs and Cats Home